Learnosity is excited to announce the arrival of Long Term Support versions to simplify our customers' lives.
What is Long Term Support?
Long Term Support (LTS) versions are major Learnosity milestone releases, going out every four months, to better match our customers' development cadence. Every February, June and October we will be releasing production ready versions of our APIs that will be supported for two years. This applies across all of our core APIs.
For each supported LTS version, we will offer security, performance and bug related patches for customer peace of mind.
A major benefit of this is that organizations want the ability to upgrade versions with security and bug patches, but don't always have the time or resources to test new features or enhancements. This way you can easily gain access to the most secure version of the Learnosity APIs and choose to upgrade to new feature releases in your own time.
View all our Long Term Support releases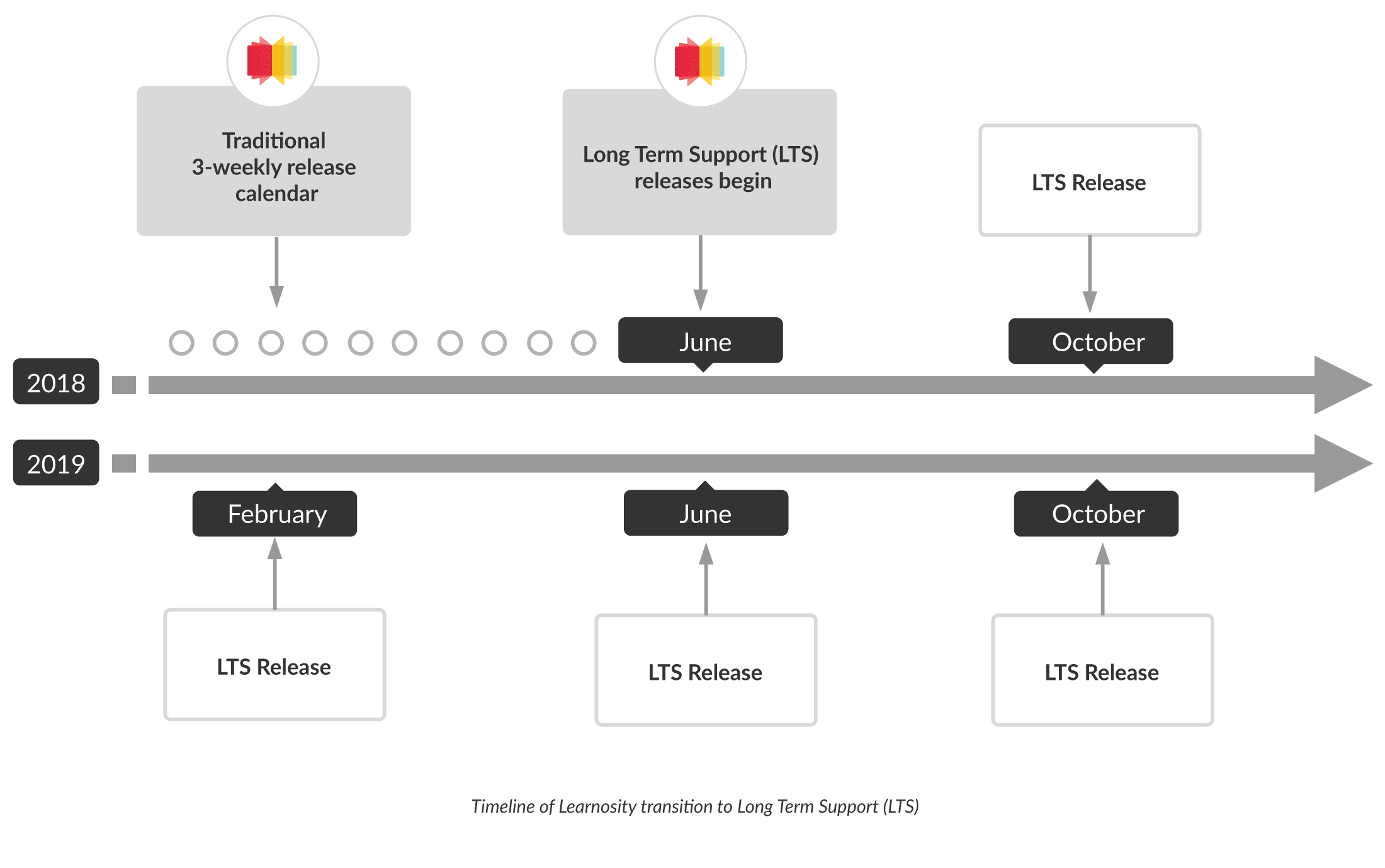 ---
Why do I need Long Term Support?
Developers are busy building their own best-of-breed solutions. Learnosity has a strong history of rapidly releasing high-grade solutions, but we recognize that customers want the safety of staying on a stable software version during mission-critical times.
With Learnosity's LTS versions you'll be able to spend less time manually patching fixed versions, and more time working on your own solution. When you're ready, you can upgrade to a more recent LTS knowing that it has a two-year patch lifetime.
Less management of versions
We are unifying version numbering across the APIs to make it easier to answer the question — "What version of Learnosity am I using?"
Instead of calling "Items API v1.81", "Author API v1.31" and "Reports API v1.4" at the same point in time — you will be able to specify "v2018.2.LTS" for all of them, and know the versions will all work together in perfect harmony.
Production ready features
With Learnosity's previous regular release of minors, it could be difficult to know when a feature is ready for primetime. By switching to a Long Term Support model, with a more defined frequency of releases, You'll always know that if it's announced as part of an LTS, it will be usable in your product.