Case Study 1 - Fully Embedded Authoring and Question Types
This Case Study details a business implementation of Learnosity's APIs, for a fully embedded Authoring and Assessment experience.
Introduction
Challenge
The Client, ACME are:
A Large Education Technology business.
Heavily involved in the following core areas:

Education Publishing
Common Core State Standards testing

Invested heavily in K-12 Education space.
ACME
want to:
Add assessment into products in a simple, time and cost effective manner.
Leverage the same created content in multiple products easily.
Utilise their own existing infrastructure and Content Management System for assessment - want to integrate, not replace.
Solution
A combined solution of:
Question Editor API for Authoring.

Easily embedded into Client's existing CMS.
Powerful question templating, to simplify question creation, and control Author formatting.
Simple integration into existing Digital Assets Management (DAM) Systems.

Questions API for assessment.

Easily embedded into all of the Client's core products as well as their supplemental assessment platform.
Developer-centric design means that it is easily tailored in a flexible manner, to provide all the features that the Client needs.

Data API to provide access to Learnosity's Scoring Engine.

Asynchronous, batch based scoring mechanism provides the simplest way for the Client to score student responses.
Design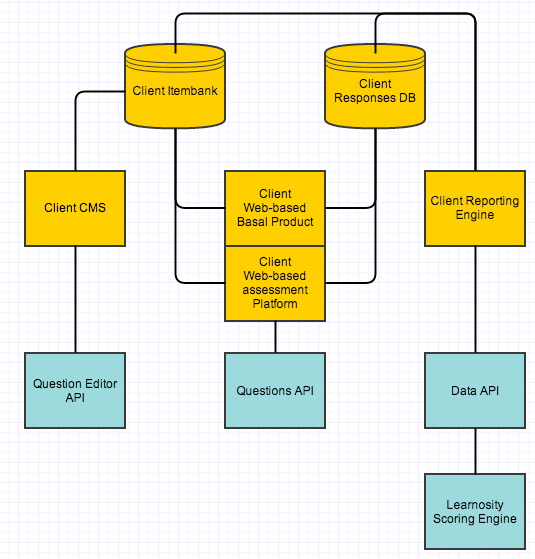 Assessment
In both their core products and supplemental assessment platform, ACME's approach was the same - by fetching the relevant Question data from their CMS, and presenting it to Learnosity's Questions API, they are able to create embedded assessment in traditionally non-assessment areas (for formative purposes) and utilise the exact same mechanism to embed Learnosity Questions into their assessment platform.
With the Questions API's flexible approach to question consumption, it allows ACME to use the authoring process detailed above, handling rendering on the fly for the provided Questions.
Questions are fetched by ACME from their database and presented to the Questions API.
On initialisation, ACME are able to present the Questions API in either "initial","resume" or "review" modes to the Questions API, to provide for the session management ACME needs. By providing both the initial Questions, as well as the persisted Question responses (where they existed), this end-to-end seamless Assessment workflow is created.
The Questions API provides public methods to fetch the student responses (getResponses()) which allows ACME to implement a number of methods to ensure student responses are persisted. These persisted responses are then retrieved and used to create resumed sessions with user responses so far captured, or for review mode for finalised sessions.
Further information
| | |
| --- | --- |
| For further information on just how to get started with the Questions API, please see our Relevant Documentation section. | To interact with our live examples, and see just how customisable our Questions API can be, please check out our Demos site |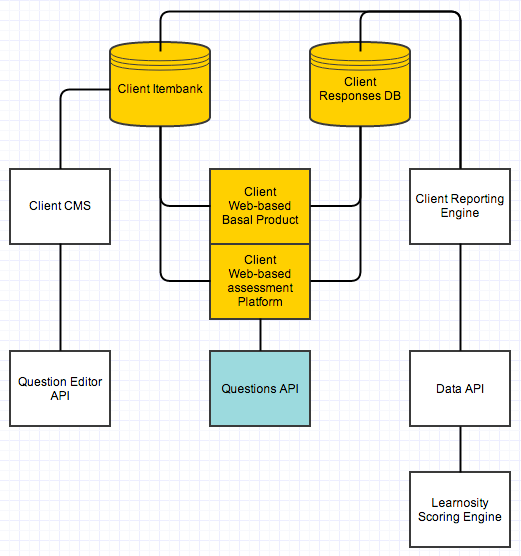 Scoring
Assessment
ACME needed to be able to utilise all the Questions and associated scoring that they had created and stored in their item bank, alongside the Student responses, to score all the questions and student responses in some manner. Learnosity's Data API allowed ACME to do this in an asynchronous but low-latency manner. As well as this, to mitigate overhead, ACME wanted to be able to batch score large chunks of this information in a batch rather than instantiating a call for each separate question.
Learnosity's Data API provides a Server-Side HTTP based API, through which a client can send JSON structures of data to manage information stored in Learnosity's Databases, or, in a situation like ACME's, access Learnosity's Scoring Engine.
By creating a JSON structure as detailed in the Data API (Scoring) documentation below, it is possible for ACME to combine the Questions and Question Responses of students and to batch score these through a low-latency mechanism.
Further information
| | |
| --- | --- |
| For further information on just how to get started with the Data API, please see our "Get Started" section. | For specific information on how to score responses using the Data API, please see our relevant documentation section. |
Benefits
Quick to Market
Learnosity's solution provided an incredibly quick way to get to market that would have been impossible using purely in-house development.
Flexibility
By using Learnosity's APIs throughout, It became very simple for ACME to embed the same content in multiple different platforms, from core publisher products to assessment platforms.
Aimed towards Common-Core standards
Learnosity's suite of Question Types allowed ACME to use Common-Core questions in an expedient and timely fashion, with our Authoring tools ensuring an simple, intuitive method for content creation.
Tailorable to fit existing business needs
For some other products in the market, ACME's existing infrastructure and the integration process required could have been a showstopper - however with the tailorable approach to design that Learnosity have taken with their suite of APIs, this wasn't an issue. Learnosity were able to provide a product that from the top down was designed to be tailorable, and easy to integrate into other CMSes and itembanks.