API Overview
This guide introduces Learnosity's APIs and services for delivering powerful authoring, assessment and analytics capabilities in your application. An outline for each capability, the relevant APIs and tools, their main purpose and features is provided below.
Learnosity is designed as an open, flexible platform of pluggable components. Implementers can pick and choose the parts that work best for the scenario at hand, customize the appearance and behaviour as desired, and benefit from a faster implementation with proven scalability and stability.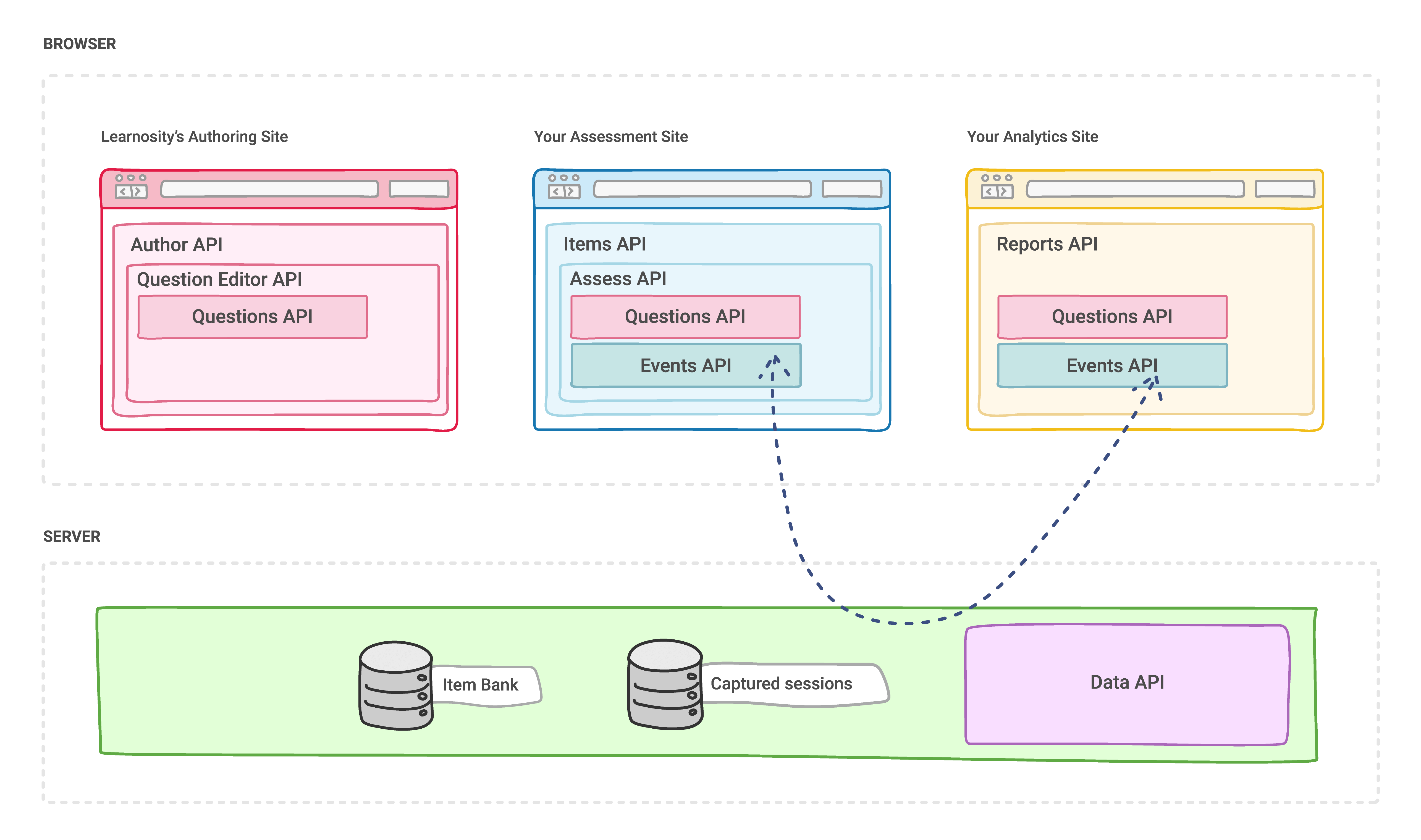 Specialised APIs deliver authoring, assessment and analytics capabilities. Data API provides programmatic access to authored content and assessment data.
Authoring Overview
Learnosity Authoring tools make it easy for experts and casual authors to create and manage their assessment content. We've designed intuitive, fast browsing and WYSIWYG editing for our full range of Question types.
Choose from the following services depending on your needs:
Learnosity Author Site


Learnosity's cloud authoring solution is available at author.learnosity.com. Author Site is a standalone portal supporting content creation and maintenance, testing and preview, search and browse, user security, organisation switching and revision history.

There's an activity builder for defining preset Activity Templates that can be referenced and rendered easily using the Assessment APIs, and a tagging interface useful for searching, browsing, reporting and categorizing content.

Author Site content is persisted in your Learnosity Item bank and automatically accessible using the Assessment and Analytics APIs.

We recommend the Author Site for customers with in-house or contract authoring teams, who don't have an existing CMS and want to adopt an off-the-shelf solution for rapid implementation. Author Site works well for content teams that use lightweight and flexible author workflows.

Author API


Author API is our embeddable Javascript app for customers wishing to create and maintain Learnosity content inside their own new or existing authoring system.

At its simplest, Author API behaves like a self-contained single page app inside the host system. The app consists of item list views for browsing and searching existing content and item edit views for building Learnosity items and previewing their rendering layout. Implementers can also use the convenient hooks, events and public methods to reconfigure the views, override the default behaviour and build a tightly integrated experience for browsing, searching, creating and editing Learnosity Items. Author API instantiates and orchestrates the Question Editor API as needed for editing Question and Feature content.

By default, Author API content is persisted in your Learnosity Item bank and automatically accessible using the Assessment and Analytics APIs. There are more complex configurations available for persisting data to your own storage system too.

Question Editor API


Question Editor API (QE) is Learnosity's WYSIWYG editor for building Questions in-browser. QE operates on the underlying JSON representation of Questions and Features via an intuitive interface, with live preview of Questions as they're authored. The UI can expose all configuration options for the full library of Question types, or just the specific subset of options your users need.

Question Editor API does not provide persistence or Item bank management capabilities. We recommend customers implement their authoring experience via Author API, which instantiates Question Editor API as needed and exposes its full functionality programmatically.
Assessment Overview
The Assessment APIs deliver robust digital assessment in your products. In Learnosity terminology, an assessment presents a set of questions to a user and captures their responses. Assessments can be presented using Learnosity's embeddable assessment player, or integrated with arbitrary navigation and logic. You can intermingle questions with your own content too.
All the Assessment APIs offer configurable save, resume and submit functionality, which securely persists users' assessment data in Learnosity's high volume infrastructure. Customers may also opt to implement their own data storage solution and disable Learnosity's persistence entirely.
The following APIs provide embeddable Learnosity assessment:
Items API


Items API is Learnosity's flagship product for delivering student assessments using content retrieved from the Learnosity Item bank. It instantiates the Assess and Questions APIs as necessary for your desired assessment experience, and also grants full access to those lower level APIs as needed.

The Items API has two modes for presenting the retrieved Items:

Assess Mode uses Assess API to inject our customizable assessment UI into your application.
Inline Mode allows you to embed Learnosity Items anywhere in your own structured content.

Assess API


Assess API is an embeddable Javascript API which provides a presentation wrapper for the Questions API allowing for the presentation of multiple questions in a paged assessment format. Besides paging and navigation, Assess API provides many tools for tracking time, managing user flow, reviewing progress, changing accessibility options and more.

The assessment UI is extremely customisable through its Regions format which allows custom layouts of the different tools and controls.

We recommend customers use Items API in Assess Mode to instantiate Assess API. This pattern provides painless Item bank integration and programmatic access to all of Assess API's functionality.

Questions API


Questions API is an embeddable Javascript API for injecting individual Learnosity Questions and managing their rendering, state and interactions. It provides simple, intuitive Questions, working seamlessly across browsers, allowing your authors to find just the right way to test your students.

We recommend customers use Items API in either Assess Mode or Inline Mode to instantiate Questions API. This pattern provides painless Item bank integration and programmatic access to all of Questions API's functionality.
Analytics Overview
For many education systems, the ability to measure, analyse and improve learning outcomes is an essential part of effective assessment. Learnosity Analytics is a set of APIs and services for viewing, exploring and analysing your assessment data. The APIs give you full, flexible access to the assessment responses and results data persisted with Learnosity. You can also retrieve test scores and metadata, and render performant, embedded reports inside your apps.
The following products form the Analytics stack:
Reports API


Reports API is an embeddable javascript API for viewing and exploring assessment results, providing a set of configurable reports and visualisations that embed into your javascript app. Use Reports API to quickly build interactive dashboards and explore results for specific activities, individuals, classes, schools and large cohorts of hundreds of thousands of users.

This API also grants you direct access to the raw JSON data used to generate each report, so you can use the results data in any custom view you wish. See the 'no UI' demos for examples.

Data API


Data API is the server-side API for full programmatic access to your Learnosity assessment data. Data API offers a set of JSON endpoints for creating, retrieving and updating data objects persisted with Learnosity. Fetch all the information you need for rich analytics and fully customized reporting.

While Reports API is generally more performant and convenient for in-browser reporting, you can make Data API requests from the browser too (as described here). For specialized or complex reporting requirements, you may consume Data API just in time to generate your reports, or consider implementing your own data warehousing and precomputation steps to optimize performance.