API Overview
You will usually access Learnosity functionality through the three main Javascript APIs:
It is possible to access lower level APIs directly, but this is not recommended without first discussing your needs with a Learnosity expert.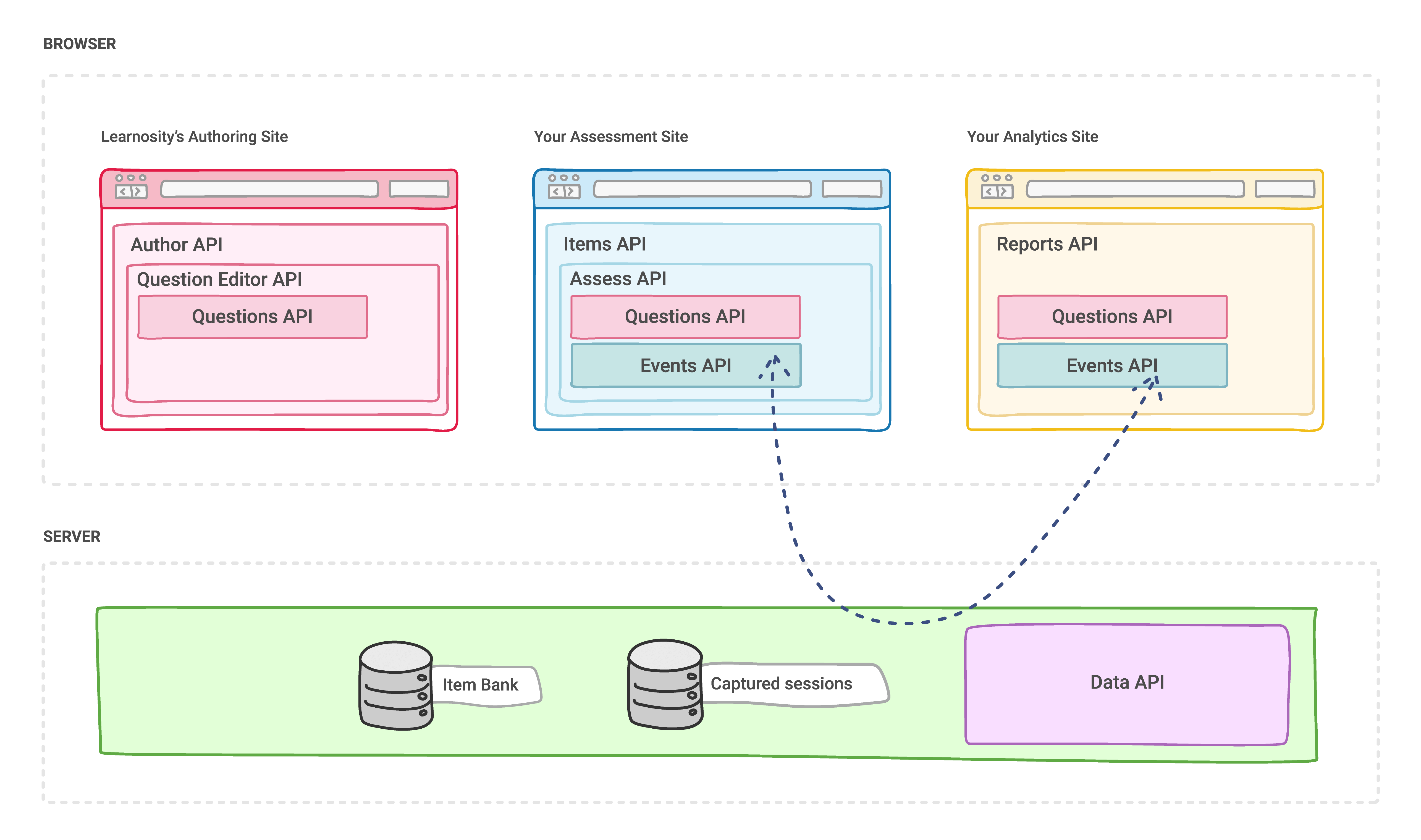 APIs to deliver authoring, assessment and analytics capabilities.
Authoring
Learnosity authoring tools provide intuitive editing tools for Learnosity's full range of Question types. Authoring tools include the following services:
Learnosity Author Site


Learnosity's Author Site is a standalone portal for creating assessment content. It is the right solution for organisations who don't have an existing Content Management System (CMS) or those who want an off-the-shelf solution for rapid implementation. It works well for content teams that use lightweight and flexible author workflows. Author Site implements Author API.

Author API


Author API provides tools to browse, search, edit and preview Questions, Items and Activities. It can be embedded into web pages or an existing Content Management System. Developers can use hooks, events and public methods to reconfigure the views, and build a tightly integrated experience for building assessment content. By default, Author API content is stored in your Learnosity Item bank and is automatically accessible using the assessment and analytics APIs.

Question Editor API


Question Editor API is the WYSIWYG editor used by Author API for building Questions in a browser, presenting a live preview of Questions as they're authored. It should be accessed through Author API, but can be accessed directly (usually as a workaround). You should talk to Learnosity if considering calling Question Editor API directly.
Assessment Overview
Learnosity assessment tools allows you to incorporate robust digital assessments in your learning products. An assessment presents a set of questions, associated content, along with arbitrary navigation and logic. Assessment tools offer configurable save, resume and submit functionality, which stores users' assessment data within the cloud (as provided by Learnosity or you). Assessment tools include the following APIs:
Items API


Items API is the API for delivering student assessments using content retrieved from Learnosity's Item bank. It has two modes for presenting the retrieved Items:

assess mode uses Assess API to inject a full assessment into your application.
inline mode offers you more control over your page layout. You can place individual Learnosity Items anywhere in your own structured content.

Assess API


Assess API presents a page of Questions along with tools for paging, navigation, tracking time, managing user flow, reviewing progress, changing accessibility options and more. It is best accessed via Items API in assess mode.

Questions API


Questions API manages the rendering, state and interactions with Learnosity Questions. It is used by Assess API, Questions Editor API and Reports API. To inject individual Questions directly into your assessment pages, use Items API in inline mode.
Analytics
Learnosity analytics provides APIs and services for viewing, exploring and analysing assessment data. The APIs give you flexible access to assessment responses and analytic results can be stored for later. You can retrieve test scores, metadata, and render embeddable reports inside your applications. Analytics tools provide the following APIs:
Reports API


Reports API is used for viewing and exploring assessment results, providing a set of configurable reports and visualisations that embed into your web pages. Use Reports API to quickly build interactive dashboards and explore results for specific activities, individuals, classes, schools and large cohorts of hundreds of thousands of users.

This API also grants you direct access to the raw JSON data used to generate each report, so you can use the results data in any custom view you wish. See the no UI demo.

Data API


Data API provides web service endpoints and browser tools for creating, retrieving and updating server-side assessment data. Use it to fetch all the information you need for rich analytics and customized reporting.

While Reports API is more performant and convenient for most reporting requirements, Data API offers more flexibility to address complex reporting.

Events API


Events API allows you to bind callback functions to particular events, where the events could be from the browser on another person's computer. For instance, a teacher or exam proctor could remotely monitor and/or control the progress of students as they go through an assessment.